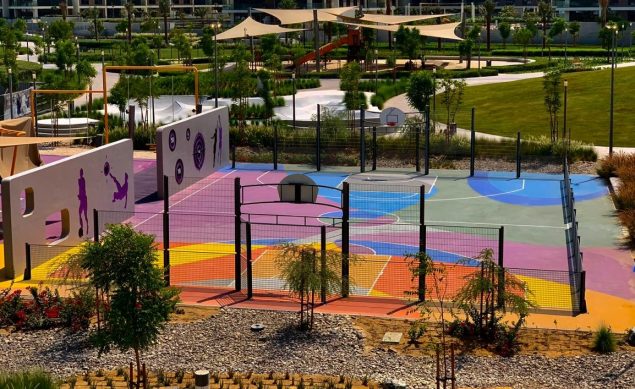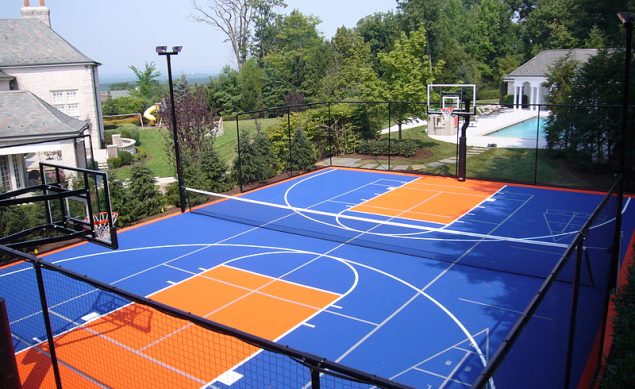 PAG MUGA – Acrylic Sports Flooring System – Flexfloor for Hot Climates Total Thickness 4 - 4.5mm
Outdoor flexible, acrylic sports flooring system ideal for tennis, basketball, volleyball, handball and football courts, as well as any other outdoor sport courts. Combination of wet-pour acrylic coatings in total average thickness of 4mm – 4.5mm.
Build-Up
Subbase of fully cured (at least 28 days) asphalt or concrete free of any dirt or spillage, that might prevent bonding of the rubber to the asphalt.
RECAPLAY Epoxy Primer: 1 coat applied by roller on top of the asphalt or concrete.
RECAPLAY Acrylic Resurfacer: Consists of acrylic resins, quartz sand and special improvers. This layer is applied by squeegee on dry compact asphalt to seal the porosity and smooth out the surface.
RECAPLAY Granule Cushion: Highly flexible, pasty, wet-pour cushion rubber flooring for sports flooring systems. Consists of recycled rubber, acrylic resins and special improvers. Applied by squeegee in 2 cross layers on Resurfacer to provide the highly flexible cushion.
RECAPLAY Color Coat: Consists of acrylic resins, quartz sand and special improvers. Highly resistant to adverse weather conditions (snow, frost, heat waves etc.) after drying. Applied by squeegee. First layer with Red acrylic mixed with 33% silica & next two cross layers with required top coat color mixing 33% & 25% silica respectively.
Send us a message
We will answer ASAP.